589 CY Darlene Compatible Map
Date: Thu, February 26, 2004
Topic: Cartography & Geography



This is a hex map that is fully compatible with the famous "Darlene Map" of the 83' folio, coordinates and all, but is updated to 589 CY!

Now, 'hawkers old and new will be on the same page when quoting locations. Enjoy!



589 CY Darlene Compatible Map
By: Terrance "abysslin" Hunt
Used with Permission. Do not repost without obtaining prior permission from the author. *(see below)

I put alot of hours into this map to give people not fortunate enough to own the 83' Greyhawk Folio and From the Ashes something to bridge the gap of Darlene coordinate quotes and to see that there is much more out there than the map in the Living Greyhawk Gazateer, which could have used abit better treatment. Old and new 'hawkers alike should find this as a useful tool to enhance their gaming sessions.

Here's a preview of this awesome piece of cartographic glory!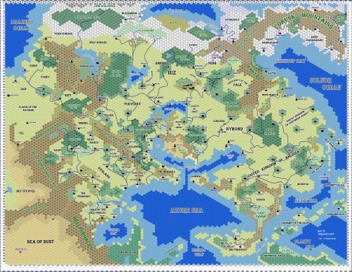 Update: There are 2 errors present on this map.
1. "Chathold" is spelled "Chathola."
2. There are 2 cities marked as "Jalpa."
* I grant anyone and everyone permission to use this (my) map in any way shape, or form so long as the following 2 criteria are met.

1. My name remains intact in the lower right hand corner of the map. If this requirement can not be met (i.e.=using partial sections of the map), then please use text on the same page as the map and as close to the map as possible, showing credit to me as Terrance "Abysslin" Hunt.

2. Also on the same page as the map and as close to it as possible, there is a link to Canonfire as well as text stating that the map was and can be originally found here.